Consider Jesus: Women's Bible Study 
Consider Jesus.
Have the storms of life gotten so rough that you want to give up? Do you sometimes feel yourself drifting away from your faith?
In order to stay anchored through the storms of life, we need to consider Jesus more deeply. It is time to grow up, to mature in our faith.
Join me to consider Jesus as we journey through the book of Hebrews. It will help you see Jesus in more of his fullness so you can anchor yourself in Him to stay hopeful and firm in your faith. Perhaps you've never considered following Jesus. Join in to learn how He can be your anchor.
Part 1 starts the week of Jan. 8 lasting 5 weeks. In person options are Monday nights, Friday mornings, or Saturday mornings. You can also do the study independently, virtually.
Studies will begin January 9th.
Choose the study group you'd like to attend
Monday evenings 6-8 at City Heights beginning Jan 9 running for 5 weeks, live teaching by Julie
Friday mornings 10-12 City Heights beginning Jan 13 running for 5 weeks, live teaching by Julie
Saturday mornings 9-11 at Amy Haskins beginning Jan 14 running for 5 weeks, video teaching
study guide and video teachings available for individual study
__________________________________________________________________
Women's Ministry at New Vision Church
The New Vision Women base their ministry on Philippians 1:9-11 ... that your LOVE may abound more and more in KNOWLEDGE and depth of INSIGHT, so that you may be able to DISCERN what is best and may be PURE and BLAMELESS for the DAY OF CHRIST, filled with the FRUIT OF RIGHTEOUSNESS that comes THROUGH JESUS CHRIST—to the GLORY AND PRAISE OF GOD.
We strive to live this out by offering Bible studies through-out the year, encouraging and fun Women's Events like the Annual Christmas Breakfast, and a yearly Women's Retreat. We encourage all women to attend Sunday service, Life Groups and serve the church and community. Email the Women's Ministry
Meet our Women's Ministry Leaders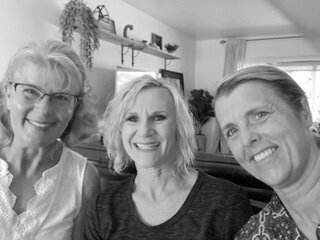 Got questions?
If you have further questions concerning our New Vision Women's Ministry or visiting New Vision Church, simply click the button below and get in touch with us!