Jesus's Farewell Message: Women's Fall Bible Study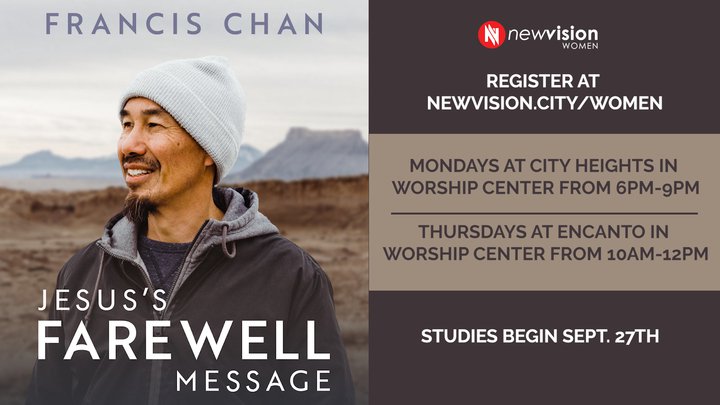 New Vision Women join us for
Jesus's Farewell Message by FRANCIS CHAN
Do you know Jesus? It's one thing to know facts about him, but to experience his love, wisdom, and guidance in your life is what it means to follow him. On the night before he was crucified, Jesus invited his disciples into a deep relationship with the triune God—and his invitation stands for us too. In this 6-part series, Francis Chan dives into John 13–17, a passage rich in promises, commands, and eternal truths. He'll remind us we aren't called to a part-time faith—we were made to know, walk with, and commune with God.
Studies will begin September 27th.
Choose the study group you'd like to attend
Mondays at City Heights in Worship Center from 6pm-9pm
Thursdays at Encanto in Worship Center from 10am-12pm
__________________________________________________________________
Women's Ministry at New Vision Church
The New Vision Women base their ministry on Philippians 1:9-11 ... that your LOVE may abound more and more in KNOWLEDGE and depth of INSIGHT, so that you may be able to DISCERN what is best and may be PURE and BLAMELESS for the DAY OF CHRIST, filled with the FRUIT OF RIGHTEOUSNESS that comes THROUGH JESUS CHRIST—to the GLORY AND PRAISE OF GOD.
We strive to live this out by offering Bible studies through-out the year, encouraging and fun Women's Events like the Annual Christmas Breakfast, and a yearly Women's Retreat. We encourage all women to attend Sunday service, Life Groups and serve the church and community. Email the Women's Ministry
Meet our Women's Ministry Leaders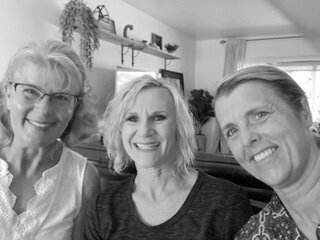 Got questions?
If you have further questions concerning our New Vision Women's Ministry or visiting New Vision Church, simply click the button below and get in touch with us!